About
Golden Doodles By Aggie
Goldendoodles by Aggie is family-owned and operated in Kissimmee, FL, and currently offering Goldendoodles, Standard, Medium, Miniature, Toy, Bernedoodles, Aussiedoodles, and Irisdoodles.  We are proud to say that our clients have voted us one of the best Golden doodle breeders Florida. Our love for Goldendoodles runs as deep as our family roots. We started this business in 2009 with our eldest Goldendoodle, Nala. Nala is a valued member of our family with her bold personality and loving nature. Our first litter that began with Nala was 13 puppies and has since grown over the years. Nala now serves as a foster mom, looking after the new puppies. Since then, our 4 genera…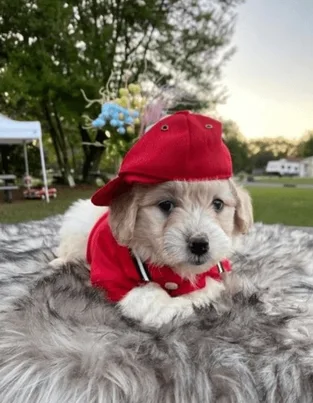 Become an Owner in 4 Easy Steps
We've simplified our process and have expanded our reach!
1. Find a Pup
Browse through our wide selection of Goldendoodles, Standard, Medium, Miniature, Toy, Bernedoodle, and Irisdoodles.
2. Meet Us
Get to know more about our process, who we are, and what we are all about.
3. Application
Make a deposit towards the newest member of your family using our simple application process.
4. Complete
Once all of the steps are complete, you can pick up your new puppy or have it shipped to your doorstep for an extra fee.
What Clients Are Saying
Testimonials
We love our dog and had a wonderful experience with Goldendoodles by Aggie. We have almost had our puppy for a year now and we could not love her more. She is fun, sweet, and gets along great with kids. Such a great family dog and brings so much joy to our lives. It was also very important to us that we got a dog that didn't shed (due to allergies). Our dog is an F1b golden doodle and we have had no issues with shedding at all. WE LOVE THAT! Also, Goldendoodles by Aggie have some of the most beautiful mini goldendoodle for sale I have seen. I would HIGHLY recommend getting a puppy from them!
Christina Cleversey